Die Befreiung des Prometheus
La Libèration de Promèthèe




The Liberation of Prometheus


Staged Concert with words by Heiner Müller, 1993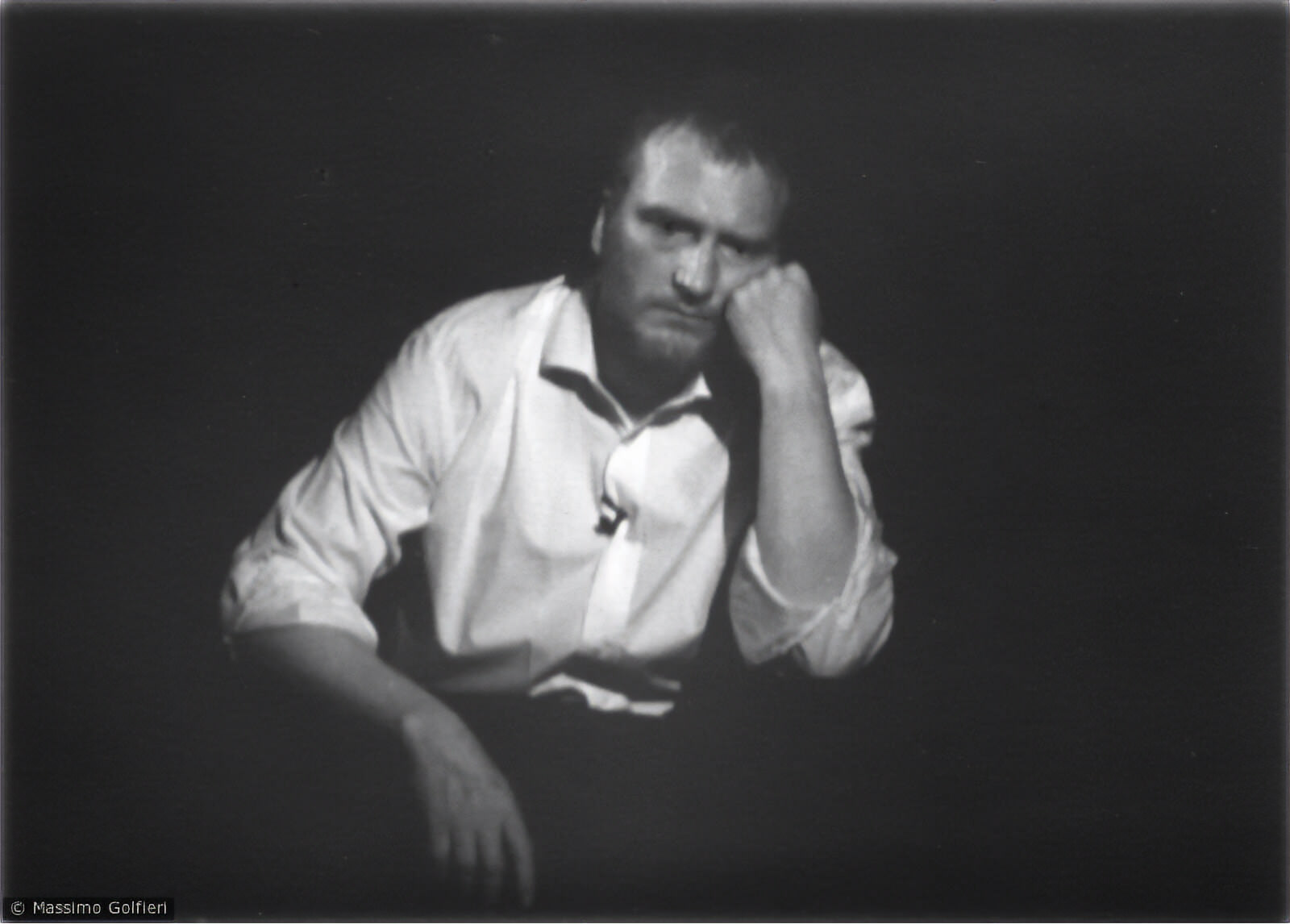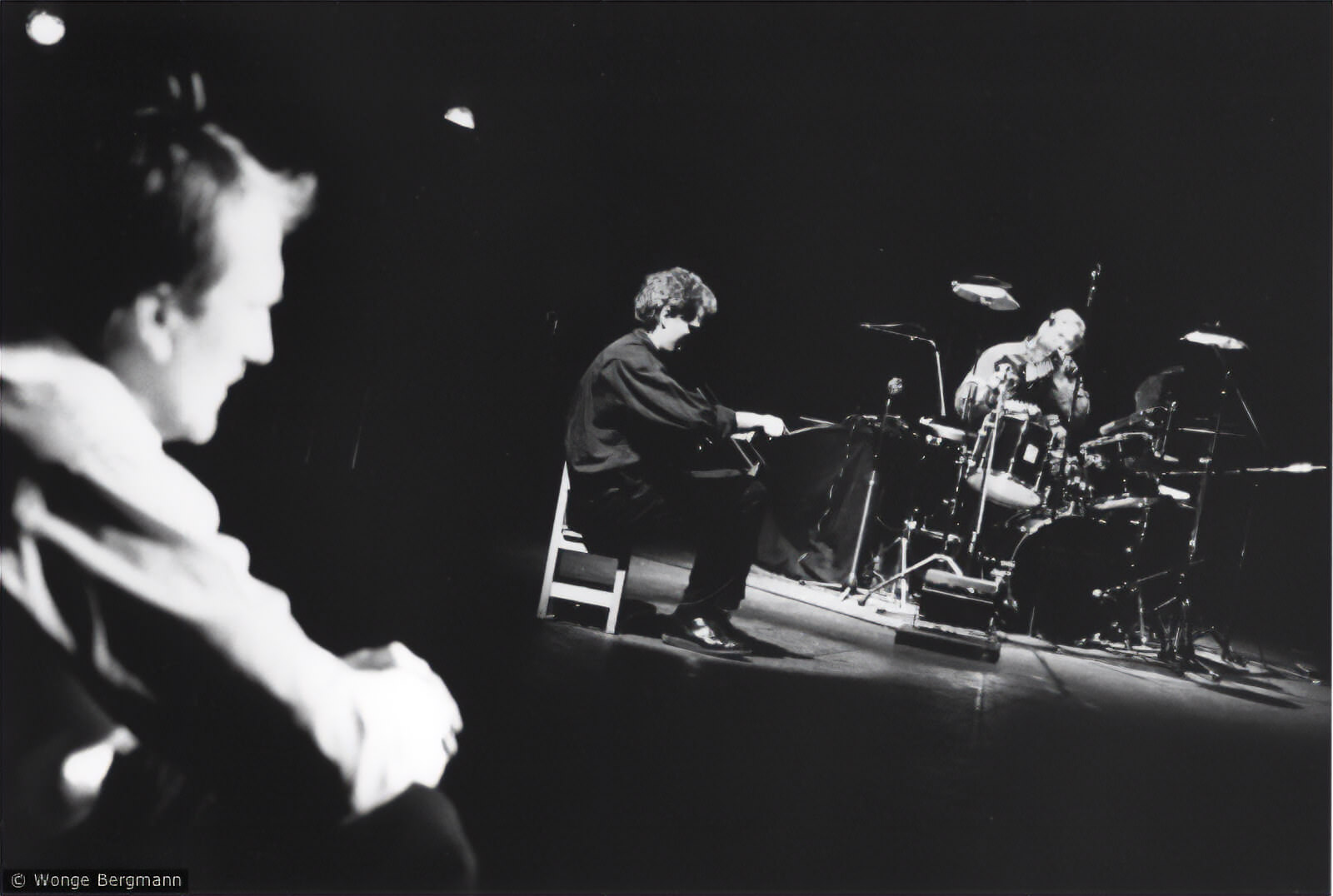 Based upon a text by Heiner Mueller
version for actor, dr and sampler
premiere: Frankfurt 1993; 50'

Direction, Composition Heiner Goebbels
Actor (German version) Ernst Stoetzner
Actor (French version) André Wilms
Drums/Vocals David Moss
Keyboards/Sampler/a.o. Heiner Goebbels
The Liberation of Prometheus was first released as a radio piece in 1985 which was awarded several prices.
The first live performance (with André Wilms and Heiner Mueller) took place in Marseille. Early versions (1992) with Heiner Mueller or local actors in the their language; e.g. in France (Mauberge), Brazil (San Salvadore Bahia, Belo Horizonte), Spain (Barcelona, Valencia) and Italy (Bari).
The recent version (with Ernst Stoetzner or André Wilms) was premiered in 1993 at the Theater am Turm, Frankfurt and has been shown since then for about 80 times in 18 countries: Austria (Innsbruck), Belgium (Brussels), Canada (Toronto), Columbia (Bogota), Denmark (Kopenhagen), England (London), Finland (Helsinki), France (Montpellier, Strasbourg, Mulhouse, Marseille, Paris), Germany (Berlin, Cologne, Darmstadt, Frankfurt, Freiburg, Bochum, Kalrsruhe, Munich, Nuernberg), Greece (Delphi), Italy (Taormina, Bari, Bologna, Turin, Palermo), Japan (Tokyo), Poland (Warszaw), Portugal (Lisboa, Porto), Switzerland (Zürich, Genève) and Turkey (Istanbul).
Texts
"Die Befreiung des Prometheus" (Article, de)
Das Szenische Konzert: Über die Performanz zur Referenz
2009, Barbara Kordes
Das Hörspieltheater von Heiner Goebbels (Article, de)
Die Befreiung des Prometheus
2002, Mareile Gilles
Das verinnerlichte Gefängnis (Review, de)
Heiner Goebbels' "Die Befreiung des Prometheus" in Petronell-Carnuntum
7 August 2001, Andreas Felber, Der Standard
Material (en)
1 January 2000
Material (de)
1 January 2000
Etwas von Adler und Nachtigall (Interview, de)
1 September 1995, Patrik Landolt, Die Wochenzeitung
Antiken Avantgarde (Review, de)
Die Befreiung des Prometheus: eine musikalische Dramatisierung
29 November 1994, Helmut Mauro, Süddeutsche Zeitung
Style! (Review, en)
Frankfurt Meets Toronto: Heiner Goebbels
June 1994, Alexander Oolo, ECHO GERMANICA
Schnabelhiebe (Review, de)
Heiner Goebbels' Die Befreiung des Prometheus
September 1993, Peter Kemper, Frankfurter Allgemeine Zeitung
Past Dates
December 2006
Divadlo Komedie, Prague (Czech Republic)
January 2004
Schauspielhaus Bochum, Bochum (Germany)
February 2003
Trafo, Budapest (Hungary)
June 2002
ZKM, Karlsruhe (Germany)
April 2002
Hörspieltage des SWR, Trier (Germany)
March 2002
Lantaren, Rotterdam (Netherlands)
October 2001
Teatro Ariosto, Reggio Emilia (Italy)
July 2001
Art Carnuntum - Festival of Greek Drama, Petronell-Carnuntum, Vienna (Austria)
November 1998
IRCAM, Paris (France)
April 1998
Staatstheater, Darmstadt (Germany)
March 1998
La Filature, Mulhouse (France)
November 1997
Porto, Porto (Portugal)
October 1997
Mousonturm, Frankfurt am Main (Germany)
September 1997
Festival Klangspuren, Innsbruck (Austria)
August 1997
Festival, Palermo (Italy)
February 1997
Tafelhalle, Nuernberg (Germany)
November 1996
Saitama Arts Centre, Tokyo (Japan)
July 1996
Southbank Centre, London (Great Britain)
Städtische Bühnen, Freiburg (Germany)
June 1996
Theater, Halle (Germany)
May 1996
Goethe Institut, Toronto (Canada)
Istanbul International Festvial, Istanbul (Turkey)
April 1996
Festival de Marseille, Marseille (France)
Latin American Theatre Festival, Bogota (Colombia)
January 1996
TAT, Frankfurt am Main (Germany)
October 1995
Festival La Batie, Genève (Switzerland)
September 1995
Settembre Musica Festival, Torino (Italy)
Warsaw Autumn Festival, Warsaw (Poland)
August 1995
Theaterspektakel, Zürich (Switzerland)
June 1995
Stadion, Delphi (Greece)
Festival TIME ZONES, Bari (Italy)
Theatre Festival, Lisboa (Portugal)
May 1995
Opera di Bologna, Bologna (Italy)
April 1995
Kaaitheater, Brussels (Belgium)
March 1995
Theater, Leipzig (Germany)
Hebbeltheater (now Hebbel am Ufer), Berlin (Germany)
February 1995
Alexandertheater (Aleksanterin Teatteri), Helsinki (Finland)
January 1995
Marstall (Bayrisches Staatsschauspiel), Munich (Germany)
September 1994
TAT, Frankfurt am Main (Germany)
July 1994
Printemps de Comediens, Montpellier (France)
Taormina (Sicily), Taormina (Italy)
June 1994
Jazzhaus, Köln (Germany)
Kanonhallen, Copenhagen (Denmark)
May 1994
Marstall (Bayrisches Staatsschauspiel), Munich (Germany)
TAT, Frankfurt am Main (Germany)
April 1994
TAT, Frankfurt am Main (Germany)
February 1994
TAT, Frankfurt am Main (Germany)
March 1993
TAT, Frankfurt am Main (Germany)
September 1992
Festival, Barcelona (Spain)
July 1992
Goethe Institut, Belo Horizonte (Brazil)
Goethe institut, Salvador de Bahia (Brazil)
May 1992
Festival VEO, Valencia (Spain)
November 1991
Theatre, Maubeuge (France)
July 1991
Festival de Marseille, Marseille (France)