Genko An 111321 (Bogota 2019)
2019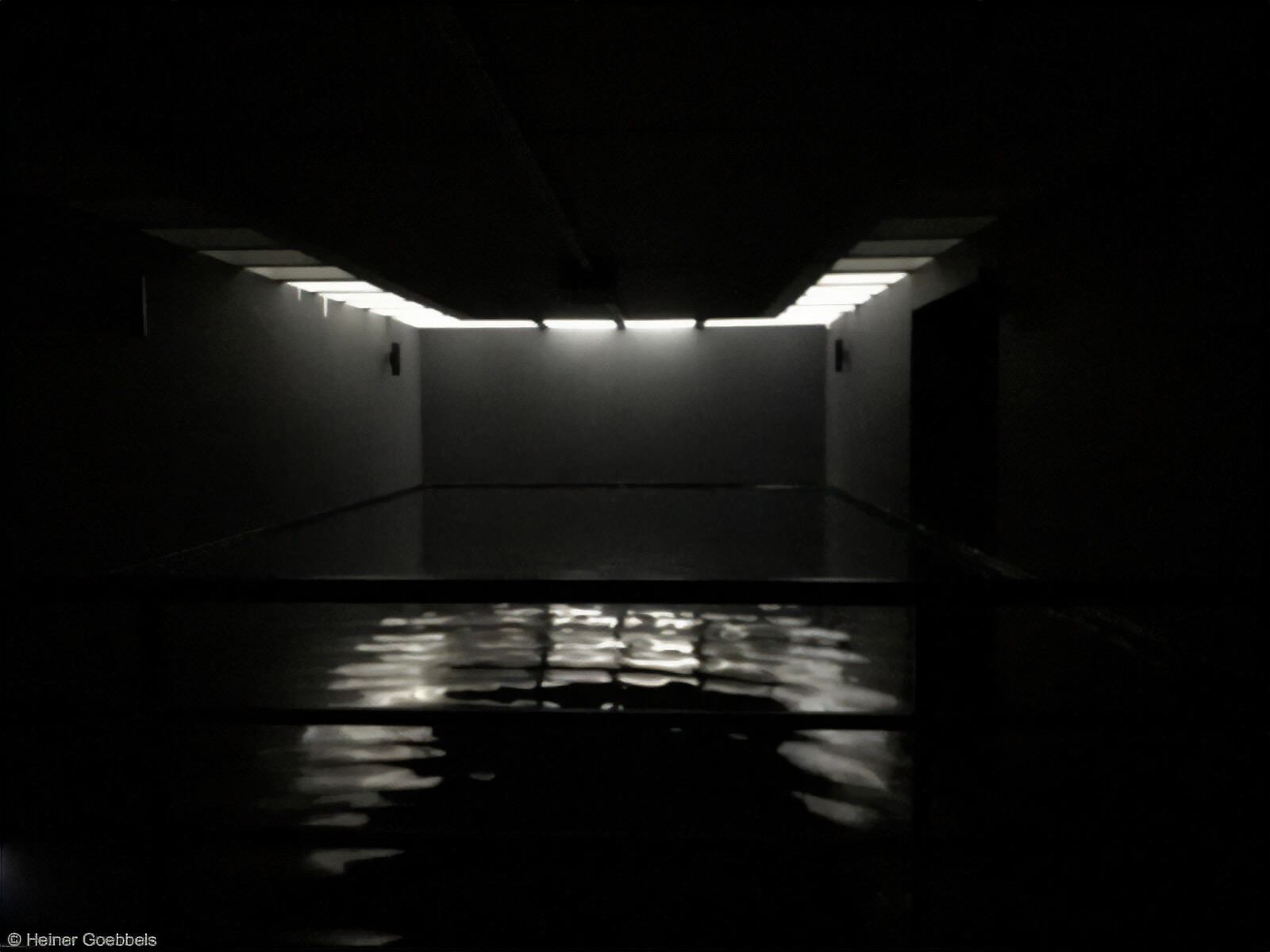 Video, 8-channel sound, water, wavemachine, 60 min, loop
Collaboration: Rene Liebert.
Curated by Maria Belén Sáez de Ibarra and Santiago Gardeasábal
Collaboration René Liebert
Music: Heiner Goebbels "Walden" performed by Ensemble Modern Orchestra
conducted by Peter Eötvös.
GENKO-AN for video, 8-channel sound, water and wavemachine is created specially for every site specific location. The impulse for its creation was the artist's visit to the buddhist temple Genko-an in Kyoto in 1992. Impressed by two windows who give view to the garden (a round one and a square one), Goebbels started to create a series of site-specific installations translating the experience he has received. His interest lies in the qualities of human perception and imagination. Heiner Goebbels decided to focus on how form influence on our perception, "...since we generally like to ignore the often unconscious effect of forms and highlight the contents instead. That might be true for the framing of such a view, but as well for the question of how something is said — and not only what it is" he explains. Quoting the construction of the windows in the Kyoto temple, Heiner Goebbels creates in GENKO- AN a "garden of voices" instead. Rare ethnografic voice recordings from Georgia, Adzerbadijan, Armenia, Sibiria, African Countries and Greece are confronted with the voices of writers, artists and musicians — John Cage, Komitas, Heiner Müller, Gertrude Stein, Hannah Arendt, Aleksei Kruchenykh, Anna Akhmatova, Alain Robbe- Grillet, Marina Abramovic and Ulay, Sainkho Namtchylak, Vladimir Egorov, Heiner Müller, Alvin Lucier, Bob Rutman and many others.
A godfather of this work is the American philosopher Henry David Thoreau (1817-1862). From time to time we hear 'Empty Words' by John Cage – an artistic deconstruction of Henry Thoreau's Journals – and fragments of Heiner Goebbels orchestra composition (1998) on Thoreau's novel "Walden – Or life in the Woods".
Past Dates
October 2019
Museo de Arte, Bogota (Colombia)
September 2019
Museo de Arte, Bogota (Colombia)