Eraritjaritjaka
Eraritjaritjaka - Museum der Sätze


museé des phrases, 2004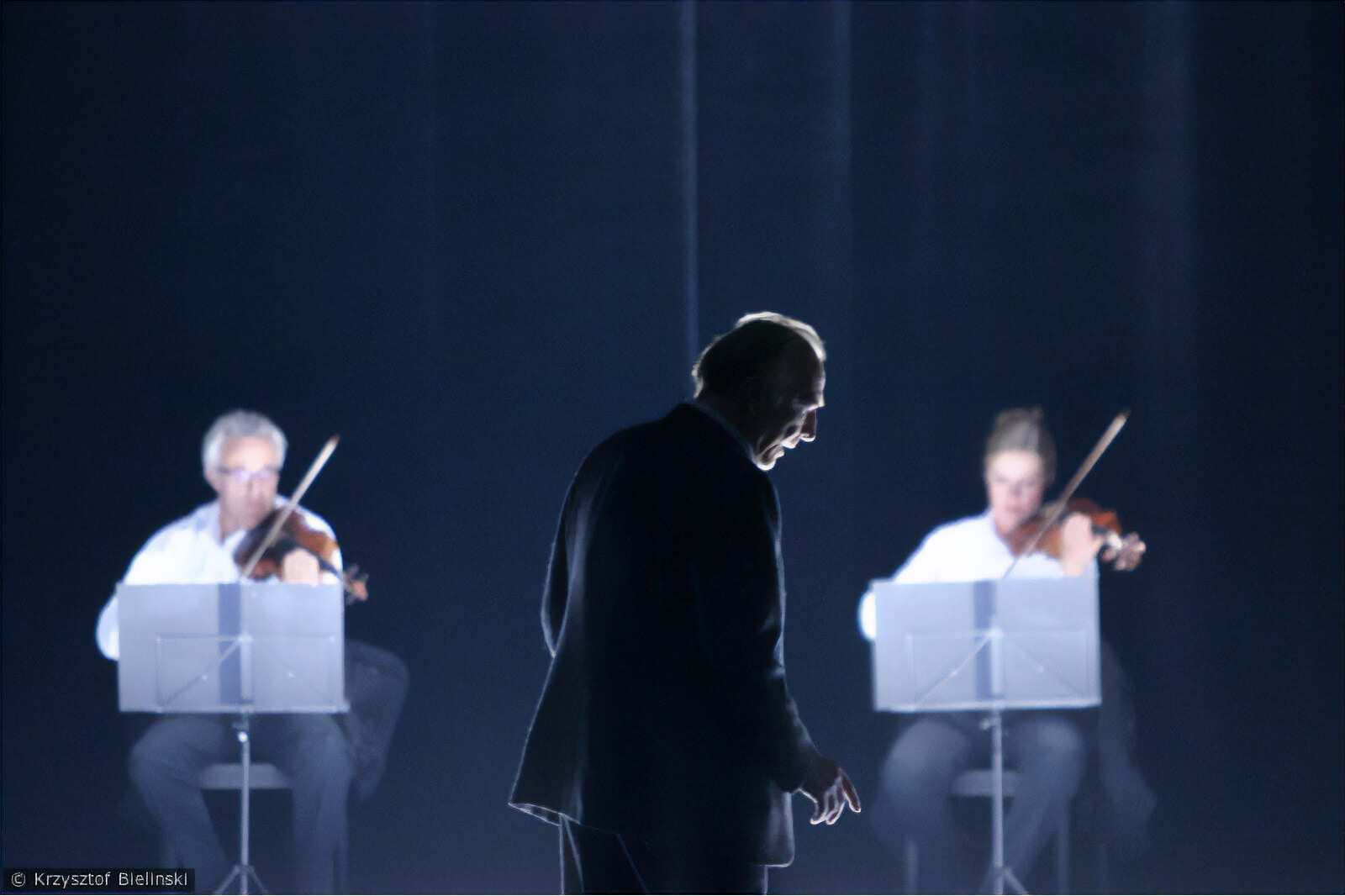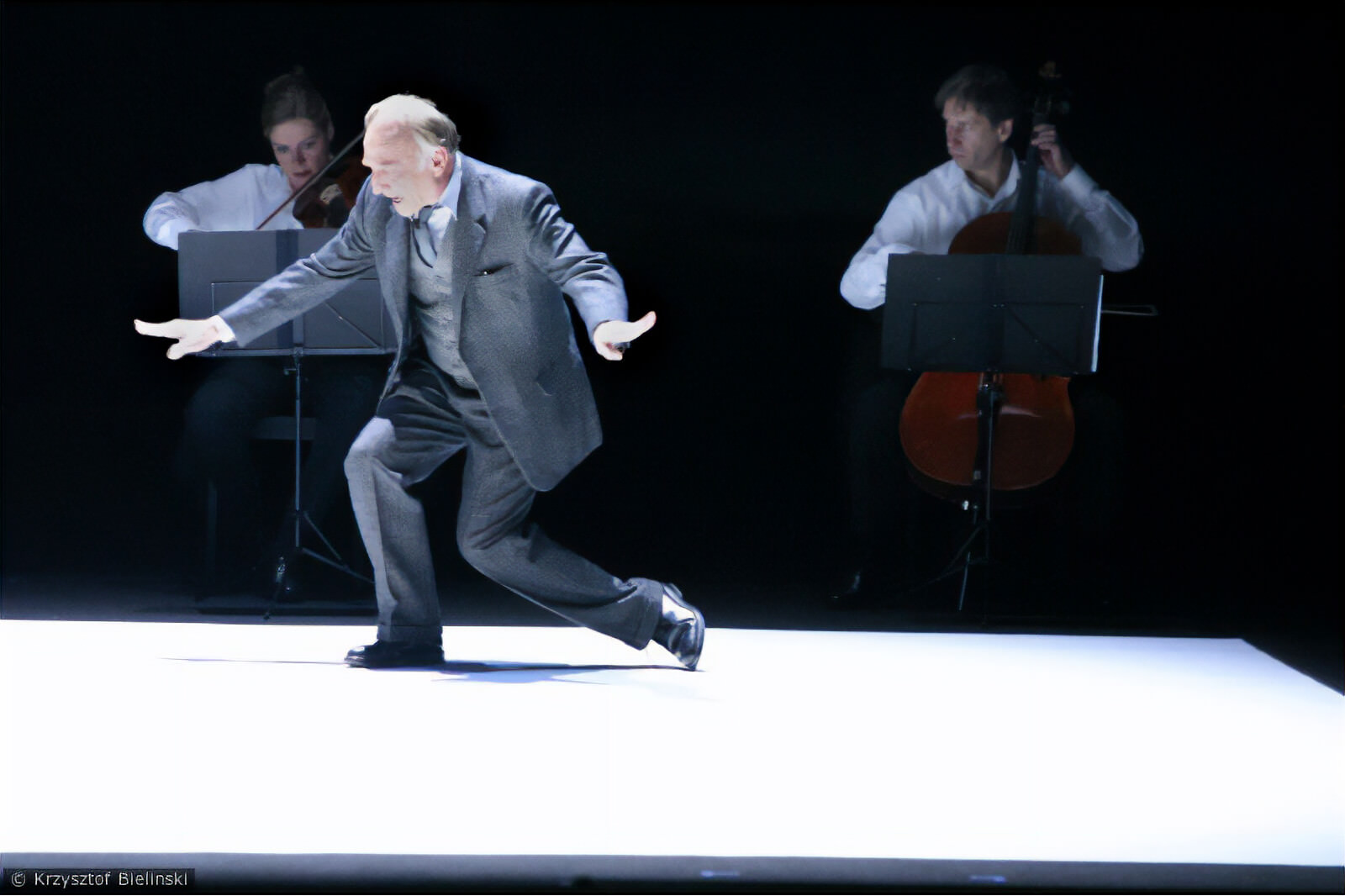 words by Elias Canetti

with André Wilms and the Mondriaan Quartett
music by Shostakovitch, Mossolov, Lobanoc, Scelsi, Bryars, Ravel, Crumb, Bach and Goebbels
composed & directed by Heiner Goebbels
stage design and light: Klaus Grünberg
costumes: Florence von Gerkan
live video: Bruno Deville
sound: Willi Bopp

Co-produced by Theatre Vidy Lausanne with schauspielfrankfurt, Berliner Festspiele, T&M-Odeon Theatre Paris, Wiener Festwochen a.o.
In this piece, the composer and director Heiner Goebbels shows his usual virtuosity in combining sounds – in this case played live by the Mondriaan Quartet – images and texts to form a Gesamtkunstwerk. The "Canetti Project" is the last part of a trilogy with the French actor André Wilms. Besides sharp, witty phrases from Canetti's volumes of "Memoirs" from the 1940s to the 1990s, and passages from "Crowds and Power", the piece also features the central figure from Canetti's only novel "Auto-da-Fé", the pedantic loner Professor Kien. The enigmatic title "Eraritjaritjaka" is a word from the Aranda language of the Australian aborigines for a state of mind, "filled with longing for something that has been lost".
In seinem neuesten Stück fügt der Komponist und Regisseur Heiner Goebbels virtuos Klänge und Bilder mit Texten Elias Canettis zu einem szenischen Gesamtkunstwerk zusammen. Das "Canetti-Projekt" ist der letzte Teil einer Trilogie mit dem französischen Schauspieler André Wilms; wieder ist das Thema die Wahrnehmung und Weltaneignung des Einzelnen, wie sie sich in Tagebucheintragungen und Notizen äußert, in diesem Fall Canettis. In kurzen, scharf pointierten Sätzen nimmt der 1994 verstorbene Literaturnobelpreisträger die Menschen und ihr Verhältnis untereinander ins Visier, die Sprache, die Musik, die Tätigkeit des Dirigenten, die kleinen Gewohnheiten und Eitelkeiten, das lächerliche Diktat der Ordnung. Neben Textpassagen aus den mehrbändigen "Aufzeichnungen" der 40er bis 90er Jahre ("Die Provinz des Menschen", Die Fliegenpein" u.a.) und aus "Masse und Macht" begegnet man auch der Hauptfigur aus Canettis einzigem Roman "Die Blendung", dem pedantischen Einzelgänger Professor Kien. Den rätselhaften Titel "Eraritjaritjaka" fand Goebbels ebenfalls bei Canetti. Er bezeichnet in Aranda, einer Sprache australischer Ureinwohner, einen Gemütszustand "beseelt vom Verlangen nach etwas, das verloren gegangen ist".
Das Amsterdamer Mondriaan-Quartett liefert die Musik zu diesem hochkonzentrierten Abend. Gespielt wird Streichquartettliteratur hauptsächlich des 20. Jahrhunderts, u. a. von Schostakowitsch, Ravel, George Crumb, und von Heiner Goebbels selbst.
Texts
Gesicht und Geschmack (Article, de)
2018, Lorenz Aggermann
L'extension de l'espace dans le théâtre aujourd'hui: à travers la vidéo, en référence à l'art contemporain (Article, fr)
22 June 2016, Tamar Sebok
Le retour triomphal d'un chef-d'œuvre (Review, fr)
Créé en 2004, «Eraritjaritjaka - Musée des phrases» d'Heiner Goebbels est repris dès ce soir à Vidy. Après douze années de tournée internationale.
17 May 2016, 24heures
ΑΨΕΓΑΔΙΑΣΤΟ ΥΒΡΙΔΙΟ ΘΕΑΤΡΟΥ ΚΑΙ POUOIKNS (Review, el)
4 March 2014, I EFIMERIDA TON SYNTAKTON (Η ΕΦΗΜΕΡΙΔΑ ΤΩΝ ΣΥΝΤΑΚΤΩΝ)
Είδαμε το «Μουσείο των φράσεων» στη Στέγη- Μουσικό θέατρο για... Νόμπελ! (Review, el)
2 March 2014, Γιώργος Σμυρνής, Monopoli.gr
ΜΙΑ ΜΟΥΣΙΚΗ ΠΕΡΦΟΡΜΑΝΣ ΓΙΑ Ο,ΤΙ ΧΑΘΗΚΕ (Review, el)
26 February 2014, AYGI (ΑΥΓΗ)
Interview, 17.02.2014 (Interview, el)
17 February 2014, ELEYTHEROS TYPOS (ΕΛΕΥΘΕΡΟΣ ΤΥΠΟΣ)
Composer says show 'saved' indigenous word (Interview, en)
15 January 2013, Steve Dow, The Sydney Morning Herald
Sydney Festival (Review, en)
14 January 2013, John Saxby, The Sydney Morning Herald
Eraritjaritjaka (Review, en)
a restlessly innovative piece of theatre, baffling and brilliant by turns – sometimes simultaneously.
11 January 2013, Joshua Mostafa, ArtsHub
Search for the lost finds its way (Review, en)
This deceptively simple and wonderfully thought-provoking show starts out as a straightforward concert
11 January 2013, John McCallum, The Australian
Meaning is incidental to experiment of great beauty (Review, en)
Demanding and intellectual . . . the audience is the subject of an ingenious theatrical experiment in Eraritjaritjaka, starring Andre Wilms
10 January 2013, Harriet Cunningham, The Sydney Morning Herald
Nostalgia por algo perdido (Review, es)
ERARITJARITJAKA, BRILLANTE ESPECTACULO DE HEINER GOEBBELS EN FIBA
1 October 2011, Diego Fischerman, Pagina 12
Là-bas, les dieux restent petits, tandis que les hommes se développent. (Article, fr)
Heiner Goebbels et les nouveaux territoires du théâtre musical»,
2011, Charlotte Bomy, AGON on ligne
Der Rhythmus des Zwiebelhackens als Raum-Erfahrung (Article, de)
Raum der Musik und Musik des Raumes in Heiner Goebbels' Eraritjaritjaka
2010, Clemens Risi
Multiple Reflexionen des Realen (Article, de)
Die künstlerische Struktur in Eraritjaritjaka von Heiner Goebbels
2009, Jürgen Schläder
Musikalisches Vexierbild oder Meisterwerk? (Article, de)
Reflexionen zu Heiner Goebbels' Eraritjaritjaka
2009, Wolfgang Rathert
Die Schönheit des Denkens (Review, de)
"Eraritjaritjaka" von Heiner Goebbels im Schauspiel Frankfurt
14 April 2009, Tim Gorbauch, Wiesbadener Kurier
"Keine Pina Bausch, kein Robert Wilson" (Interview, de)
Heiner Goebbels über die Finanzkrise, echte Kreativität und seine Zukunft am Schauspiel Frankfurt
3 April 2009, Main-Echo
Bergman hyllad - och saknad? (Review, sv)
Sverige börjar få flera tunga teaterfestivaler
2 March 2009, Svante Aulis Löwenborg, Norsk Shakespeare- og teatertidsskrift
Eraritjaritjaka, Musée des Phrases (Review, en)
10/2007, Leslie Durham, Theatre Journal
"Manches merkt man sich bloß, weil es mit nicht zusammenhängt" (de)
Fragen beim Bau von Eraritjaritjaka
2007, Heiner Goebbels
Kunst auf der Schwelle zum Leben (Article, de)
Eraritjaritjaka von Heiner Goebbels als postdramatisches Musiktheater
2006, Tobias Reitz, (unpublished)
La musique dans Eraritjaritjaka (Article, fr)
2/2005, Stephan Buchberger, Théâtres&Musiques
Heiner Goebbels retrace le voyage d'Elias Canetti (Review, fr)
"Eraritjaritjaka", une utilisation heureuse des artifices de la modernité.
13 December 2004, Brigitte Salino, Le Monde
Eraritjaritjaka (Review, it)
11 December 2004, Laura Putti, La Repubblica
Au diapason de Canetti (Review, fr)
10 December 2004, Eric Dahan, La Liberation
Die Täuschungsanstalt (Review, de)
2 December 2004, Nina Tabassomi, kulturberlin.de
Eraritjaritjaka/Heiner Goebbels Berlin Festspielhaus (Review, en)
30 November 2004, James Woodall, Financial Times
Blendend - GRENZüBERGLEITUNG (Review, de)
Heiner Goebbels vollkommenes Sprechmusiktheater "Eraritjaritjaka" in Berlin
19 November 2004, Matthias Dell, Der Freitag
Eraritjaritjaka von Heiner Goebbels (Review, de)
16 November 2004, Cornelia Jentzsch, Märkische Oderzeitung
"Eraritjaritjaka": Heiner Goebbels' entlarvt Canettis Kalendersprüche (Review, de)
16 November 2004, Kai Luehrs-Kaiser, Die Welt
Der Feine und die Welt (Review, de)
Das Théâtre Vidy aus Lausanne gastiert mit "Eraritjaritjaka" am Schauspielhaus Zürich
6 November 2004, Charlotte Staehelin, Basler Zeitung
Schweben mit Canetti (Review, de)
Heiner Goebbels verknüpft die Künste, zaubert, blendet, irritiert. Im Zürcher Schauspielhaus gabs Ovationen für sein jüngstes Musiktheater.
6 November 2004, Michael Eidenbenz, Tages-Anzeiger
CANETTIS BLICK (Interview, de)
4 November 2004, Erika Wittwer, Züritipp
Vom Verschwinden des Komponisten im Theater (Review, de)
HEINER GOEBBELS UND DIE MUSIKTHEATERPRODUKTION «ERARITJARITJAKA»
3 November 2004, Thomas Meyer, Tages-Anzeiger
Das Geheimnis der Leichtigkeit (Interview, de)
31 October 2004, Andreas Klaeui, NZZ am Sonntag
Vexierspiele der Wirklichkeit (Review, de)
18 September 2004, Marcus Hladek, Frankfurter Neue Presse
Voller Verlangen: Heiner Goebbels' Musiktheaterwerk "Eraritjaritjaka" im Frankfurter Schauspiel (Review, de)
18 September 2004, Harald Budweg, Frankfurter Allgemeine Zeitung
Haus im Mensch (Review, de)
Mit Heiner Goebbels im Museum der Sätze, Bilder, Dinge und Klänge: "Eraritjaritjaka" im Schauspiel Frankfurt
18 September 2004, Hans-Jürgen Linke, Frankfurter Rundschau
"Eraritjaritjaka": Begeisterung bei Deutschland-Premiere (Review, de)
17 September 2004, dpa, Hamburger Morgenpost
Eraritjaritjaka (Review, en)
2 September 2004, Lynne Walker, The Independent
Eraritjaritjaka (Review, en)
30 August 2004, Tom Servic, The Guardian
Eraritjaritjaka: Musee De Phrases (Review, en)
30 August 2004, Susan Nickalls, The Scotsman
Eraritjarijaka: musée des phrases (Review, en)
30 August 2004, Pat Napier, www.edinburghguide.com
Russian doll system (Review, en)
23 August 2004, Sabine Haupt, Neue Zürcher Zeitung
A musical mystery tour (Review, en)
22 August 2004, Marc Fisher, The Scotsman
Round peg in a square hole (Review, en)
20 August 2004, Andrew Clements, The Guardian
"Système gigogne" (Review, fr)
Une pièce de Heiner Goebbels à Lausanne, d'après des textes de Canetti
23 April 2004, Sabine Haupt, Neue Zürcher Zeitung
Schachtelsystem (Review, de)
Ein Canetti-Stück von Heiner Goebbels in Lausanne
23 April 2004, Sabine Haupt, Neue Zürcher Zeitung
Eraritjaritjaka : un nouveau spectacle de Heiner Goebbels au Théâtre Vidy-Lausanne (Review, fr)
22 April 2004, Andras Klaeui, Basler Zeitung
Mémoires en vrac dans un grenier (Review, fr)
Un musée des phrases : Eraritjaritjaka, de Heiner Goebbels, d'après des textes d'Elias Canetti, au Théâtre Vidy-Lausanne
22 April 2004, Wolfgang Sandner, Frankfurter Allgemeine Zeitung
Eraritjaritjaka: a new production by Heiner Goebbels at the Théâtre Vidy-Lausanne (Review, en)
22 April 2004, Andras Klaeui, Basler Zeitung
Disordered memories in an attic (Review, en)
A museum of phrases: Eraritjaritjake, by Heiner Goebbels, based on texts by Elias Canetti, at the Théâtre Vidy-Lausanne
22 April 2004, Wolfgang Sandner, Frankfurter Allgemeine Zeitung
Unaufgeräumte Memoiren eines Dachbodens-Klangmuseum der Sätze (Review, de)
"Eraritjaritjaka" von Heiner Goebbels nach Elias Canettis Aufzeichnungen am Théâtre Vidy in Lausanne uraufgeführt
22 April 2004, Wolfgang Sandner, Frankfurter Allgemeine Zeitung
Eraritjaritjaka (Review, fr)
21 April 2004, Joachim Johannsen, Deutschlandfunk
Eraritjaritjaka (Review, de)
21 April 2004, Joachim Johannsen, Deutschlandfunk
Die Songline in Canettis Denken (Article, de)
Eraritjaritjaka - Musiktheater vom Text her gelesen
2004, Cornelia Jentzsch
Libretto (deutsch) (Material, de)
1 January 2000
Libretto (francais) (Material, fr)
1 January 2000
Libretto (english) (Material, en)
1 January 2000
Past Dates
May 2016
Théâtre Vidy, Lausanne (Switzerland)
February 2014
Onassis Cultural Center, Athen (Greece)
January 2013
Sydney Festival, Sydney (Australia)
September 2012
Ibsen Festival
National Theatre, Oslo (Norway)
Festival La Batie
Théâtre de Carouge, Genève (Switzerland)
August 2012
Festival La Batie
Théâtre de Carouge, Genève (Switzerland)
September 2011
FIBA Festival Internacional de Buenos Aires, Buenos Aires (Argentina)
March 2011
Mexico CIty Festival, Mexico City (Mexico)
December 2010
Royal Danish Playhouse, Copenhagen (Denmark)
October 2009
International new music festival NYYD '09, Tallin (Estonia)
June 2009
Kungliga Dramatiska Teatern, Stockholm (Sweden)
April 2009
schauspielfrankfurt, Frankfurt am Main (Germany)
January 2009
Le Volcan, Scene national du Havre, Le Havre (France)
October 2008
Gaida Festival
Lietuvos nacionalinis dramos teatras, Vilnius (Lithuania)
January 2007
Teatro Stabile Torino, Torino (Italy)
December 2006
Teatro Nacional Sao Joao, Porto (Portugal)
November 2006
Budapest, Budapest (Hungary)
Warszawskie Spotkania Teatralne / Theatre Festivals ENCOUNTERS, Warsaw (Poland)
October 2006
Grand Théâtre, Luxembourg (Luxembourg)
July 2006
Lincoln Center Festival, New York (USA)
June 2006
Wiener Festwochen, Vienna (Austria)
Festival de Marseille, Marseille (France)
May 2006
Carrefour international de theatre, Québec (Canada)
V Festivals au Canada theatres du monde, Montréal (Canada)
March 2006
Chambéry, Chambéry (France)
Grenoble, Grenoble (France)
Annecy, Annecy (France)
February 2006
New Zealand International Arts Festival, Wellington (New Zealand)
October 2005
Madrid, Madrid (Spain)
La Filature, Mulhouse (France)
September 2005
Teatro di Roma, Rome (Italy)
BITEF, Belgrade (Serbia)
July 2005
Teatro Nacional de Catalunya, Barcelona (Spain)
June 2005
Teatro Nacional de Catalunya, Barcelona (Spain)
schauspielfrankfurt, Frankfurt am Main (Germany)
Cechov Festival, Moscow (Russian Federation)
May 2005
Théâtre National Populaire Villeurbanne, Lyon (France)
Opera de Lille, Lille (France)
Kunstenfestival Brussels, Brussels (Belgium)
Théâtre Municipal, Thionville-Lorraine (France)
March 2005
Opera Toulouse (Théâtre du Capitole), Toulouse (France)
Oper Caen, Caen (France)
December 2004
schauspielfrankfurt, Frankfurt am Main (Germany)
Festival d'Automne, Paris (France)
November 2004
Den Haag, Den Haag (Netherlands)
Haus der Berliner Festspiele (Freie Volksbühne), Berlin (Germany)
Schauspielhaus, Zürich (Switzerland)
September 2004
schauspielfrankfurt, Frankfurt am Main (Germany)
August 2004
Edinburgh International Festival, Edinburgh (Great Britain)
May 2004
Théâtre Vidy, Lausanne (Switzerland)
April 2004
Théâtre Vidy, Lausanne (Switzerland)
World Premiere
Théâtre Vidy, Lausanne (Switzerland)
Related Works
Eraritjaritjaka
Sounds of a string quartet, 2004
Tape Composition