When the Mountain changed its clothing
Music Theatre with Carmina Slovenica, 2012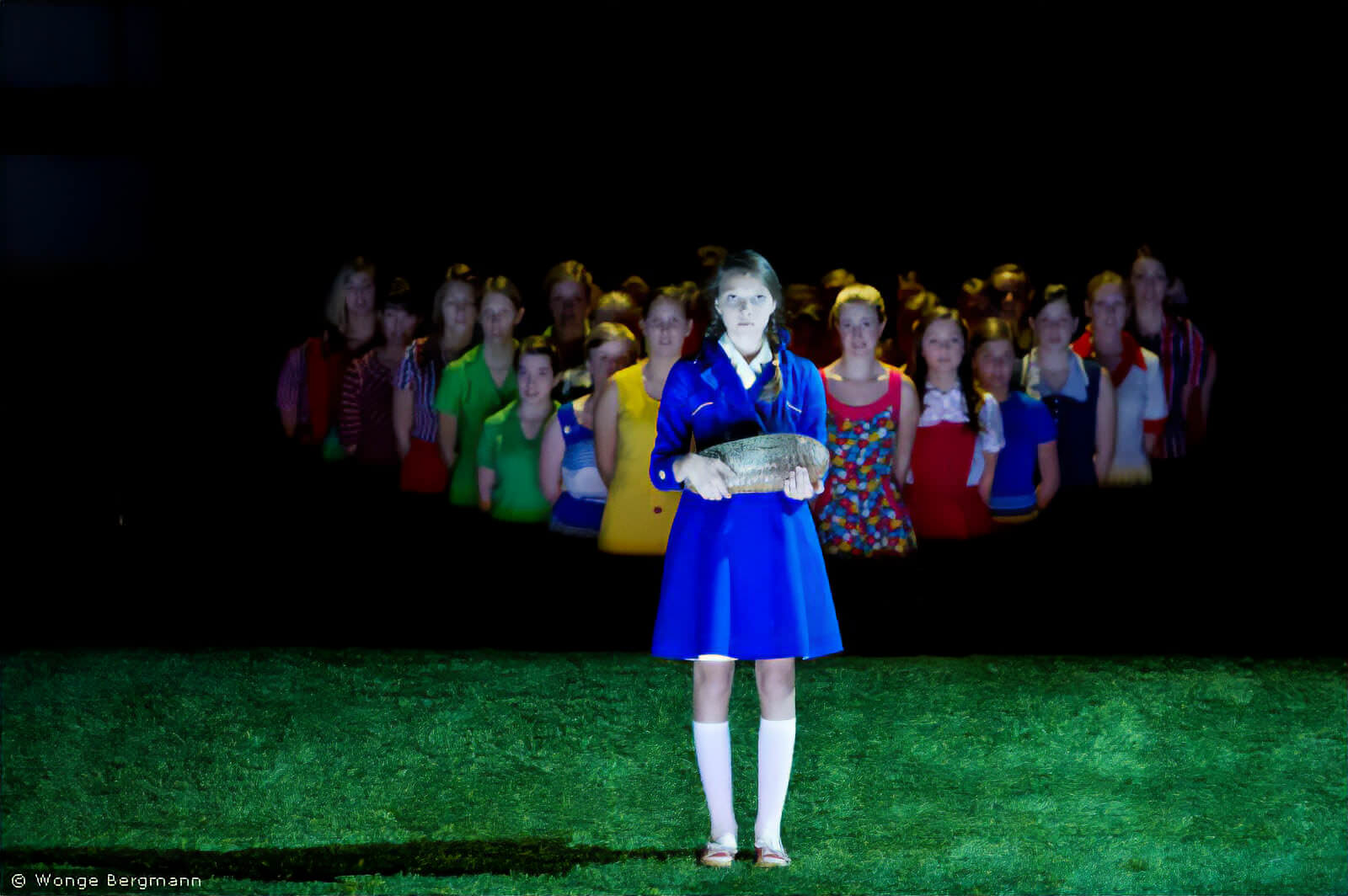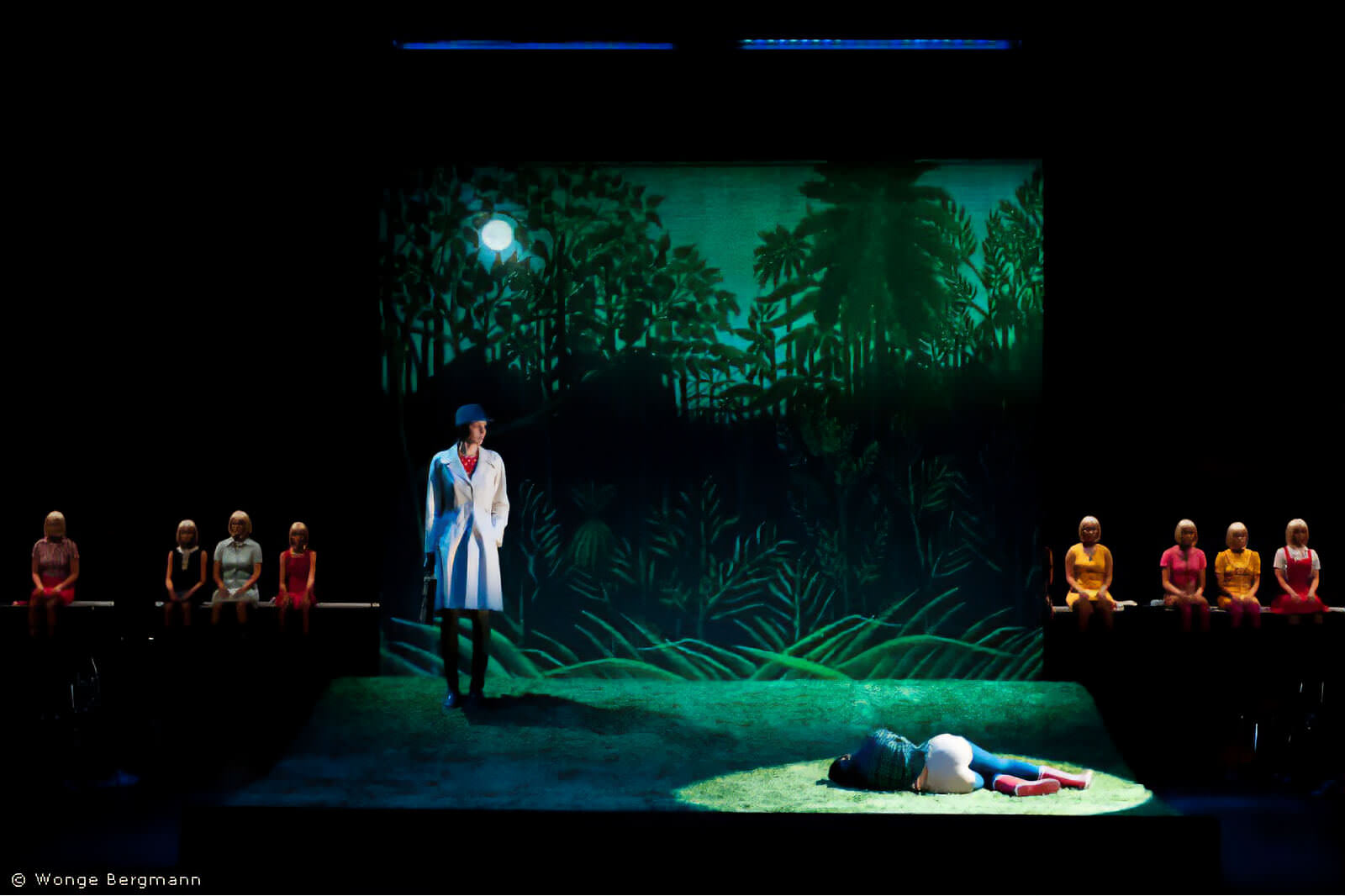 produced by the Ruhrtriennale 2012 in coproduction with Steirischer Herbst Graz, Maribor Theatre Festival in the context of Maribor European capital of Culture 2012, Festival d'Automne Paris, Grand Theatre Luxembourg, Kunstfestspiele Herrenhausen
Direction Heiner Goebbels
Vocal Theatre Carmina Slovenica / Artistic director and conductor Karmina Silec
stage design Klaus Grünberg
costumes Florence von Gerkan
sound design Willi Bopp
dramaturgy Matthias Mohr
choreography Florian Bilbao
When the Mountain changed its clothing explores the changes experienced by the 40 girls from Maribor, ages ten to twenty. They confront us with stories and questions about the end of childhood. The old is no more, yet the new remains out of reach. On this threshold, they assemble to play seemingly harmless games, verses, songs, and create poetic threatening images. In a mutual interplay of sovereignty and repression, the young singers move through the cycle of the seasons, constantly calibrating the balance of power relations among one another and especially between the audience and the stage.
"What do young girls dream of?" – "Of the knife and of blood."
In 1995, this fragment of dialog by French writer Alain Robbe-Grillet closed an early musical theater work by Heiner Goebbels, Die Wiederholung (The Repetition). It now represents the point of departure for his latest work of music theater. Together with the singers and his artistic team, Heiner Goebbels developed a scenario in which the girls constantly sway between a cliché of childish innocence and unpredictability. These highly charged images also emerge from the unbelievable energy of the young protagonists and reflect a social transformation: the rapid political and social changes in the region of this group and their musical culture.
Under the artistic direction of conductor Karmina Šilec, the Slovenian vocal group has developed an international reputation. With its large repertoire, stretching from medieval to folk works and contemporary music, they perform around the world. Vocal Theatre Carmina Slovenica not only impresses with their great musical and choreographic precision, but also due to the self-confidence of the young singers.
The music to When the Mountain changed its clothing combines music from Carmina Slovenica's repertoire with partisan songs from the Tito era and popular music.
When the Mountain changed its clothing thematisiert vor allem den Umbruch, in dem sich die 40 Mädchen der Carmina Slovenica im Alter von 10 - 20 Jahren aus Maribor befinden. Sie konfrontieren uns mit Geschichten und Fragen zum Abschied von ihrer Kindheit. Das Alte ist nicht mehr, das Neue noch nicht greifbar. An dieser Schwelle finden sie sich zusammen zu scheinbar harmlosen Spielen, Versen, Gesängen und schaffen poetische, bedrohliche Bilder. Im Wechselspiel zwischen Souveränität und Repression bewegen sich die jungen Sängerinnen durch den Zyklus der Jahreszeiten und balancieren die Machtverhältnisse stetig neu aus - untereinander und vor allem zwischen Publikum und Bühne.
»Wovon träumen die jungen Mädchen?« - »Vom Messer und vom Blut.«
Mit diesem Dialog des französischen Autors Alain Robbe-Grillet endete 1995 ein frühes Musiktheaterstück von Heiner Goebbels,Die Wiederholung. Zugleich ist es der Startpunkt für seine neueste Musiktheaterproduktion. Gemeinsam mit den Sängerinnen und seinem künstlerischen Team entwickelt Heiner Goebbels ein Szenario, in dem die Mädchen ständig zwischen einem Klischée kindlicher Unschuld und Unberechenbarkeit schwanken. Nicht zuletzt entstehen diese spannungsgeladenen Bilder aus der unglaublichen Energie der jungen Protagonistinnen, und sie reflektieren auch die rapiden politischen und sozialen Veränderungen der Region, aus der sie und die musikalische Kultur ihrer Gruppe stammen.
Unter der künstlerische Leitung der Dirigentin Karmina Šilec hat sich das Vocal Theatre Carmina Slovenica zu einem international gefragten Klangkörper der Region entwickelt. Mit seinem großen Repertoire von mittelalterlicher über folkloristische bis hin zu zeitgenössischer Musik ist er mit seinen Konzerten weltweit zu Gast. Vocal Theatre Carmina Slovenica beeindruckt sowohl mit der großen musikalischen und choreografischen Präzision als auch mit dem selbstbewussten Auftreten der jungen Sängerinnen. Die Musik zuWhen the mountain changed its clothingstellt dabei Musik aus dem Repertoire von Carmina Slovenica neben Partisanengesänge aus der Tito-Zeit und Popmusik.
Texts
Lorsque les jeunes filles changent d'humeur (Review, fr)
17 December 2015, Marion Siéfert
Переходный возраст (Review, ru)
На «Золотой Маске» показали спектакль Хайнера Геббельса и юных хористок
3 April 2015, Татьяна Власова, teatral-online.ru
Спектакль Хайнера Гёббельса показали в Москве (Review, ru)
Фестиваль «Золотая маска» начал проект «Контекст» с примера настоящей свободы театрального мышления
28 March 2015, Олег Зинцов, Vedomosti
Облако-рай (Review, ru)
«Когда гора сменила свой наряд» Хайнера Гёббельса на «Золотой маске»
25 March 2015, Антон Хитров, Colta
«Все умрут. А я останусь?» (Review, ru)
Уникальный женский хор из Словении исполнил в Москве новый спектакль Хайнера Геббельса
24 March 2015, Cергей Бирюков, Gazeta Trud
Музыка народная, слова свои (Review, ru)
Спектакль "Когда гора меняет свой наряд" Хайнера Гёббельса представили на "Золотой маске"
23 March 2015, Кристина Матвиенко, Независимая газета
Young girls steal the show in Goebbels' When the Mountain Changed its Clothing' (Review, en)
a magnificent, organic and unclassifiable work
27 October 2014, Chris Boyd, The Australian
Melbourne Festival: When The Mountain Changed Its Clothing (Review, en)
Alison Croggon considers Heiner Goebbels' breathtaking work When The Mountain Changed Its Clothing, a piece of theatre that refuses to cast young women as shallow, narcissistic, morally shonky human beings.
27 October 2014, Alison Croggon, ABC Arts
Melbourne Festival: When The Mountain Changed Its Clothing (Review, en)
***
25 October 2014, Andrew Fuhrmann, Daily Review
**** When The Mountain Changed Its Clothing (Review, en)
This collaboration between German director Heiner Goebbels and the girls' choir Vocal Theatre Carmina Slovenica produces some inspired collisions of voices, bodies, image and text.
25 October 2014, Kate Herbert, Herald Sun
Imaginative work unleashes wild energies (Review, en)
***
24 October 2014, Cameron Woodhead, The Sydney Morning Herald
Ein Abend von seltener Intensität (Review, de)
29 August 2014, Dorothee Philipp, Die Oberbadische
Das Theaterfestival Basel ist eröffnet (Review, de)
Es begann mit einem Musiktheater mit 40 jungen Sloweninnen. Das Stück: Heiner Goebbels' "When the mountain changed its clothing". Das Fazit? Choreographie und Gesang verschmelzen.
29 August 2014, Bettina Schulte, Badische Zeitung
Das Basler Theaterfestival 2014 ist eröffnet (Review, de)
28 August 2014, Dominique Spirgi, TagesWoche
Komponieren im Raum (Article, de)
Inszenierungsstrategien in "When the mountain changed its clothing" von Heiner Goebbels
2014, Helen Peyton, unpublished
De onberispelijke meiden uit Maribor zijn de baas (Review, nl)
27 June 2013, Frederike Berntsen, TROUW
Junge Vocalistinnen überzeugen mit honigsüßem Lächeln (Review, de)
27 June 2013, Jörg Worat, Cellesche Zeitung
"Es müssen nicht Motorräder sein" (Interview, de)
Heiner Goebbels über seine Vorstellungen von Opernregie und When the Mountain changed its clothing in Hannover
6 June 2013, Jörg Worat, www.kreiszeitung.de
Singen, spielen, sprechen: 40 Sloveninnen in Luxemburg (Review, de)
Der Komponist Heiner Goebbels hat am Wochenende mit den 11- bis 20-jährigen Mädchen des Vocal Theatre Carmina Slovenica` eine beeindruckende Verbindung zwischen Bewegung, Rezitation und Gesang auf die Bühne des Luxemburger Grand Théâtre gebracht.
12 May 2013, Trierischer Volksfreund
Kunst als Erfahrung (Review, de)
1 March 2013, Renate Puvogel, kunstforum
Im Schatten junger Mädchenblüte (Review, de)
1 November 2012, Rainer Nonnenmann, Musik Texte
Untitled (Review, de)
1 November 2012, Dansk Musik Tidsskrift
Quand les jeunes filles ne le sont plus (Review, fr)
Chaperon rouge, chaperon vert. Chaperon jaune, chaperon bleu, les trente-cinq jeunes filles de la chorale Carmina Slovenica sont parties dans la forêt musicale plantée pour elles par Heiner Goebbels dans l'impressionnante Jahrhunderthalle de Bochum, où est créée ce 26 septembre sa nouvelle pièce When the Mountain Changed its Clothing, dans le cadre de la Triennale de la Ruhr, festival dont il est le directeur artistique.
24 October 2012, Marie-Aude Roux, Le Monde
Mädchen im Wandel (Review, de)
17 October 2012, Verena Franke, Wiener Zeitung
Die Zukunft liegt gleich hinter dem Berg (Review, de)
Mädchen-Power in aller Ruhe: Das Vocal Theatre Carmina Slovenica erhebt in Heiner Goebbels "When the mountain changed its clothing" Einspruch gegen Gegebenheiten
15 October 2012, Margarete Affenzeller, Der Standard
Die Polyphonie des Erwachsenwerdens (Review, de)
Revue mit starkem Chor
14 October 2012, Michael Tschida
Im Märchenwald der Pubertät (Review, de)
Einer Art magischen Realismus, der echt wirkt, als vieles was man sonst so auf (Musik-) Theater Bühnen zu sehen bekommt
14 October 2012, Martin Gasser, Kronenzeitung
Johlen, jaulen, stampfen (Review, de)
Ruhrtriennale endet mit Heiner Goebbels' eigener Inszenierung
10 October 2012, Michael Struck-Schloen, Süddeutsche Zeitung
La Ruhr mise à jour (Review, fr)
Virage transdisciplinaire à la Triennale de la Ruhr, pilotée par Heiner Goebbels. Traversée en trois jours de ses monuments industriels, parfaitement habités par Robert Lepage ou Lemi Ponifasio, Michal Rovner ou Heiner Goebbels.
2 October 2012, Jean-Louis PERRIER, Mouvement.net
Alles wird gut (Review, de)
1 October 2012, Ursula Decker-Bönniger, OMM Online Musik Magazin
Der Reiz liegt im Geheimnis (Review, de)
Heiner Goebbels' "When the mountain changed its clothing": Schwer zu entschlüsseln, aber der Gesang ist fantastisch
29 September 2012, Martin Schrahn, WAZ
Wovon junge Mädchen träumen (Review, de)
Ruhrtriennale: Jugendoper von Goebbels
28 September 2012, Julia Gaß, Halterner Zeitung
Der kindliche Blick auf unsere Welt (Review, de)
Uraufführung mit slowenischem Mädchenchor
28 September 2012, Bernd Aulich, Recklinghäuser Zeitung
Labyrinth der Kindheit (Review, de)
Heiner Goebbels' neues Musiktheater "When the mountain ..." bei der Ruhrtriennale - und demnächst in Hannover
28 September 2012, Rainer Wagner, Hannoversche Allgemeine
Abschied von der Kuschelkindheit (Review, de)
RUHRTRIENNALE Heiner Goebbels und "Carmina Slovenica" in Bochum
28 September 2012, Rainer Nonnenmann, Kölner Stadtanzeiger
Das Schlachten der Kuscheltiere (Review, de)
Ruhrtriennale Heiner Goebbels zeigt sich auf vertrautem Gebiet.
28 September 2012, Hans-Christoph Zimmermann, Westdeutsche Zeitung
Wenn nicht nur Berge ihre Kleider wechseln (Review, de)
Gertrude Stein im Wechselgesang mit Rousseau: Ein neues Musiktheaterwerk von Heiner Goebbels in Bochum.
28 September 2012, Gerhard Rohde, Faz
Wattebäuschchen, schwebend (Review, de)
28 September 2012, Detlev Brandenburg, Die Deutsche Buehne
Die jungen Mädchen und der Traum von einer anderen Zeit (Review, de)
27 September 2012, Bernd Berke, Revierpassagen
When the Mountain Changed its Clothing, Bochum Jahrhunderthalle (Review, en)
Heiner Goebbels's new work weaves surreal stories, using a 40-strong girls' choir from Slovenia
27 September 2012, Shirley Apthorp, Financial Times
When the Mountain Changed its Clothing (Review, en)
Adolescent girls stole the show in Heiner Goebbels' When the Mountain Changed its Clothing at the Ruhr Triennale ****
27 September 2012, Ivan Hewett, The Telegraph
Past Dates
March 2015
Golden Mask Festival Moscow
Театр «Мастерская П.Н. Фоменко», Moscow (Russian Federation)
October 2014
Melbourne Festival
Arts Centre State Theatre, Melbourne (Australia)
August 2014
Theaterfestival Basel
Kulturwerkstatt Kaserne Basel, Basel (Switzerland)
October 2013
Theatre Confrontations Festival
Theatre Confrontations, Lublin (Poland)
June 2013
Holland Festival
Westergasfabriek, Amsterdam (Netherlands)
Kunstfestspiele
Herrenhausen, Hannover (Germany)
May 2013
Grand Théâtre, Luxembourg (Luxembourg)
Kunstenfestivaldesarts
Halles de Schaerbeek, Brussels (Belgium)
October 2012
Festival d'Automne
Théâtre de la Ville, Paris (France)
European Capital of Culture
National Theatre, Maribor (Slovenia)
Steirischer Herbst
Helmut-List-Halle, Graz (Austria)
September 2012
Ruhrtriennale
Jahrhunderthalle, Bochum (Germany)