Stifters Dinge
Stifter's Things


A performative Installation / Music Theatre, 2007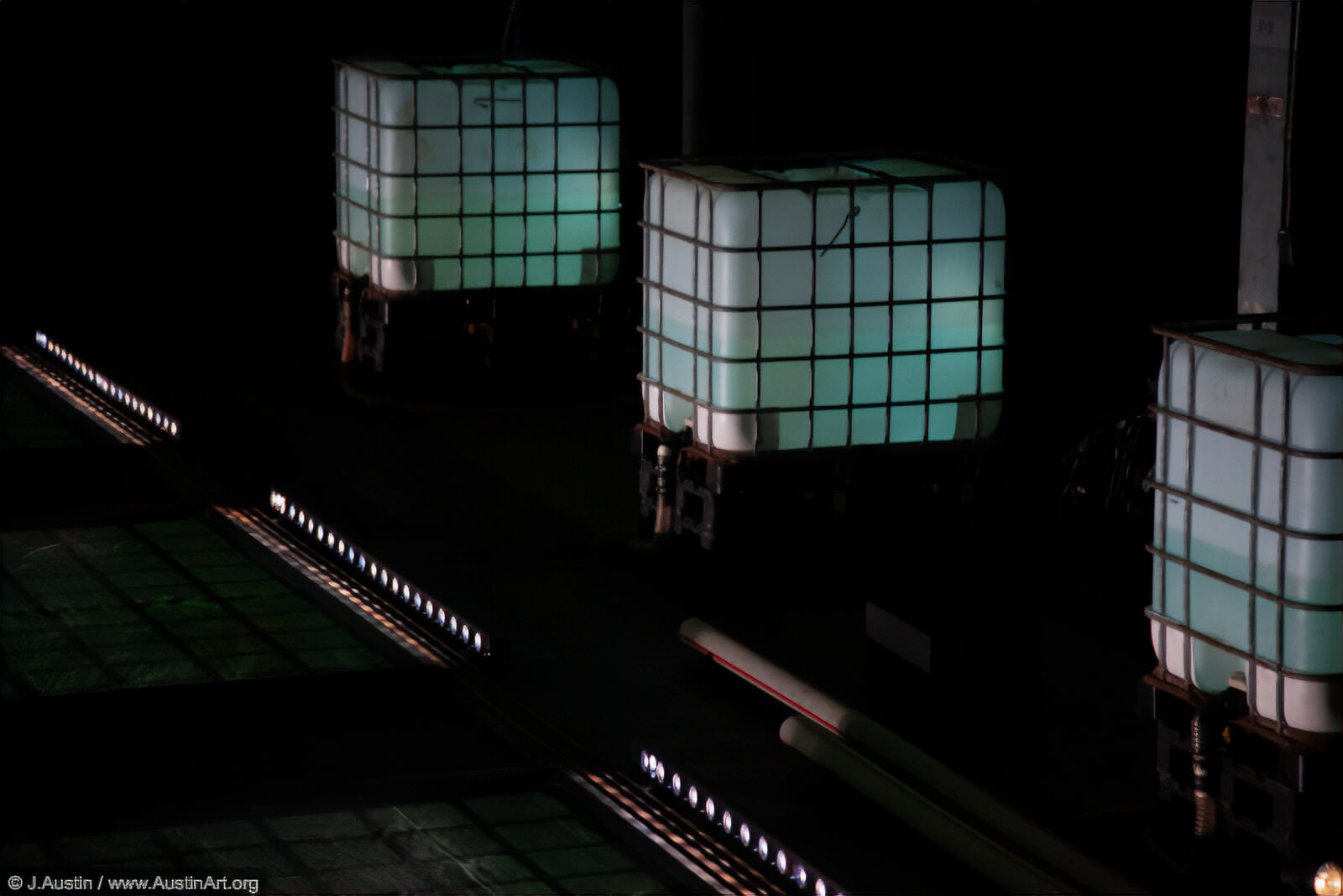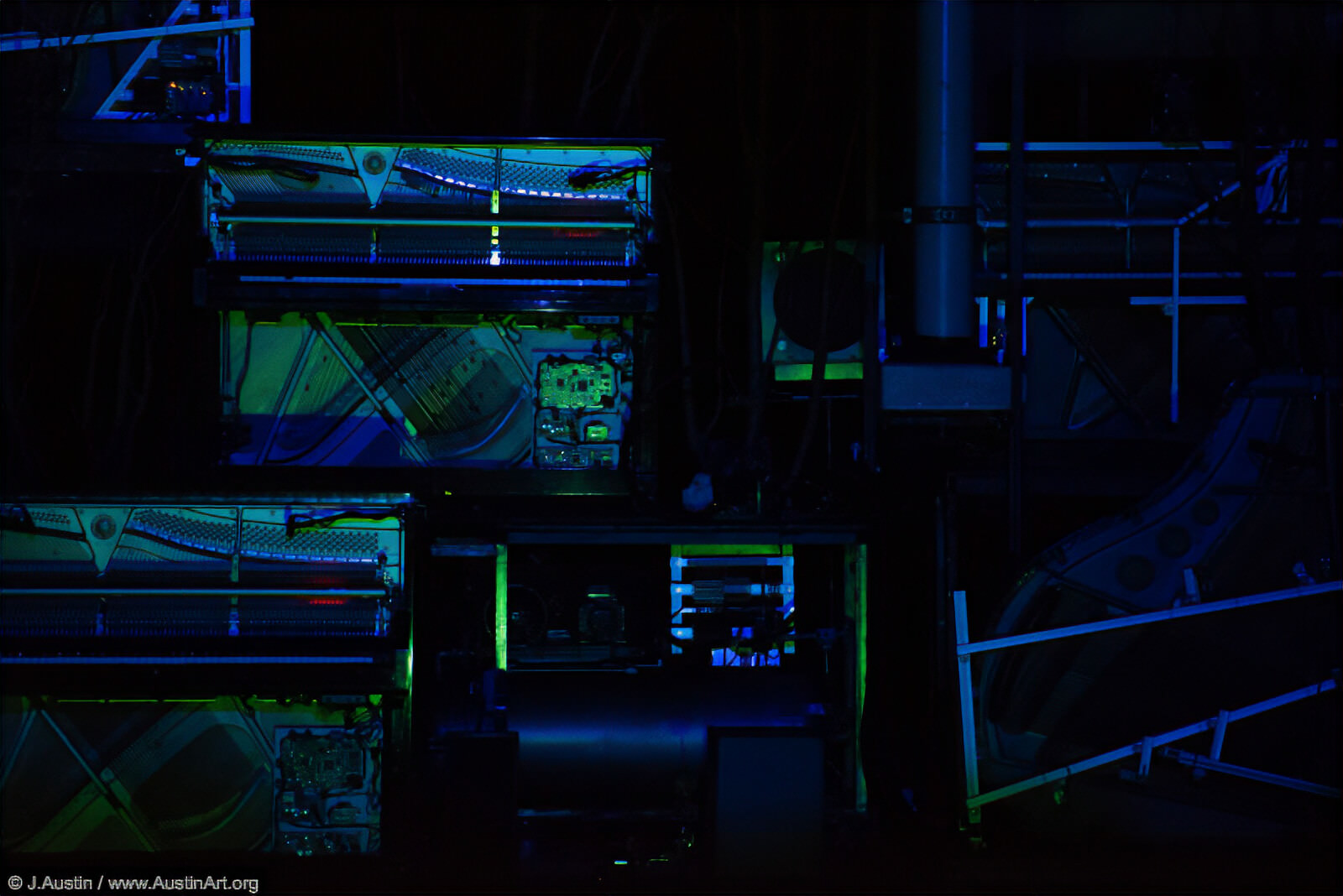 Composer & Director Heiner Goebbels
Light and stage Klaus Grünberg
Sound Willi Bopp
Programming Hubert Machnik
Co-produced by Theatre Vidy Lausanne with T&M-Nanterre Paris, Schauspielfrankfurt, Berliner Festspiele - Spielzeit Europa, Grand Theatre Luxembourg, Teatro Stabile Turino
Co-comissioned by artangel, London
Heiner Goebbels' latest work is a piano piece without a pianist, a piece of theatre without an actor, a performance without performers: it invites the audience into a fascinating space full of sounds and images. Things that in theatre often appear to be no more than props or decoration become protagonists here: lighting, images, noises, sounds, voices, wind and fog, water and ice.
His source of inspiration are the stories of Adalbert Stifter, where plot takes a step back out of respect for nature and objects. With their radically slow tempo and ritualized repetitions, they make the romantic Stifter appear surprisingly modern. The performative installation Stifter's Things uses these features as a challenge to encounter the unknown and powers which we cannot master – both unfamiliar cultural orders and natural disasters, as described repeatedly and exhaustively by Stifter.
»Das Rauschen, welches wir früher in den Lüften gehört hatten, war uns jetzt bekannt; es war nicht in den Lüften, jetzt war es bei uns. In der ganzen Tiefe des Waldes herrschte es ununterbrochen fort, und entstand, wie die Äste und Zweige krachten und zur Erde fielen. Es war um so fürchterlicher, da alles Andere unbeweglich stand … Wir harreten, und schauten hin, ich weiß nicht, war es Bewunderung oder Furcht, in das Ding hinein zu fahren.«
Adalbert Stifter, Die Mappe meines Urgroßvater
Heiner Goebbels' neueste Arbeit ist ein Klavierstück ohne Pianisten, ein Theaterstück ohne Schauspieler, eine Performance ohne Performer: eine Einladung an die Zuschauer in einen faszinierenden Raum voller Töne und Bilder. Dinge, die im Theater oft nur als Dekor oder Requisit erscheinen, werden hier zu Protagonisten: Licht, Bilder, Geräusche, Töne, Stimmen, Wind und Nebel, Wasser und Eis.
Inspirationsquelle sind die Erzählungen Adalbert Stifters, in denen die Handlung aus Respekt gegenüber der Natur und den Dingen zurücktritt. In ihrer radikalen Entschleunigung und ihren ritualisierten Wiederholungen lassen sie den Romantiker Stifter überraschend heutig erscheinen. Die performative InstallationStifters Dingeknüpft daran an als eine Herausforderung für die Begegnung mit dem Fremden und mit Kräften, derer wir nicht »Herr sind«, um andere als uns bereits bekannte Kriterien und Urteile zuzulassen – sowohl unbekannten kulturellen Ordnungen gegenüber als auch Naturkatastrophen, wie sie Stifter immer wieder ausführlich schildert.
Texts
Stifters Dinge o la ópera tribunal (Article, es)
Stifters Dinge or the Parliament Opera House
2022, Victoria Cóccaro
Die Musikalität szenischer Gefüge (Article, de)
Stifters Dinge: Komposition für sämtliche Bühnenkräfte
2021, Rasmus Nordholt-Frieling
Máquinas Musicales 1 (Article, es)
Stifters Dinge
2020, Julián Galay, teatro colon
现场一个人都没有,为什么我们还要看Heiner Goebbles? (Article, cn)
后台收到很多鼓励我们的留言,非常感谢,我们等微信许可后就能开放讨论区了。这周聊聊海恩纳·戈培尔(Heiner Goebbels)先生的作品,十年来一直位列我们最想看的现场之一。
16 May 2020, Yipeng Jiang, www.pj-arts.com
Heiner Goebbels's Stifters Dinge and the Arendtian Public Sphere (Article, en)
2019, Luke Matthews, Performance Philosophy Journal
A Coisa e o (im)próprio: em torno de Stifters Dinge (2007), de Heiner Goebbels (Article, pt)
Dissertação apresentada ao Programa de Pós-graduação em Literatura, Cultura e Contemporaneidade da PUC-Rio como requisito parcial para obtenção do grau de Mestre em Literatura, Cultura e Contemporaneidade.
2019, Rodrigo Borges Carrijo
ROBOT OPERA (Article, en)
Bridging the Anthropocentric and the Mechanized Eccentric
1 April 2019, Alexander Sigman, Computer Music Journal
When are things not things? (Review, en)
Can you create a theater piece without people? That is the question from prolific German composer and director Heiner Goebbels and his longtime collaborating designer, Klaus Grünberg. Their answer, Stifter's Dinge, was born in the works of a 19th-century landscape painter and novelist.
8 September 2018, Gail Obenreder, BroadStreetReview.com
Die Musikalität szenischer Gefüge (Article, de)
Stifters Dinge als Komposition für sämtliche Bühnenkräfte
2018, Rasmus Nordholt-Frieling, Musik Konzepte
Cristallo di rocca und andere stille Dinge (Article, de)
Das Werk Adalbert Stifters als Inspiration für die Musikwelt
1 January 2018, Fabian Schwinger
Extraterrestrial-like performance puzzled and awe-struck Klaipedians (Review, en)
27 September 2017, Linas Jegelevicius, The Baltic Times
"Stifterio daiktai" Klaipėdoje (Review, lt)
Heineris Goebbelsas festivalyje "Permainų muzika"
15 September 2017, Mindaugas Urbaitis, 7md
Stifterio kanonas "Švyturio" kanjone (Review, lt)
Jei atsiribotum nuo vyksmo scenoje ir pažvelgtum iš viršaus, kokia nors Dievo ar drono akimi, vaizdas būtų keistas: didžiulės arenos vidury susėdusi grupelė žmonių stebi, kaip jai groja, važinėja, garuoja ir net lenkiasi keistų dekoracijų krūsnis. Sąlyginėje scenoje - nė vieno žmogaus, tik pradžioje pora technikų įmerkia vamzdžius į seklius baseinus, kad pripiltų vandens, o vėliau dingsta. Ir jei sėdintysis toje mažoje grupelėje atitrauktų žvilgsnį nuo scenos ir apsidairytų, jis išvystų jį stebinčius tūkstančius tylių tuščių kėdžių.
9 September 2017, Vaidas Jauniškis, Menų faktūra
Η σιωπή των προσωπείων, τα προσωπεία της σιωπής ή μια συνθήκη ύψιστης ακρόασης (Article, el)
2016, Stathis Gourgouris, South Magazin - documenta 14
Maskenstille, Stillemasken oder Ein Zustand äußersten Zuhörens (Article, de)
2016, Stathis Gourgouris, South Magazin - documenta 14
Mask Silence, Silence Masks, or A Condition of Utmost Listening (Article, en)
2016, Stathis Gourgouris, South Magazin - documenta 14
VOCES ANIMADAS (Review, es)
10 April 2016, Paula Perez Alonso, Pagina 12
Stifters Dinge (Review, en)
For the first time in its history, the Colón Theatre is offering a work with no performers, inviting viewers to wonder and ponder an almost otherworldly soundscape.
28 February 2016, Buenos Aires Herald
El tecnorromanticismo de Goebbels (Review, es)
La máquina se ubica detrás del escenario principal.
27 February 2016, Pablo Gianera, La Nacion
Elegía para gran mecano (Review, es)
"Stifters Dinge" La instalación de Heiner Goebbels deslumbró en la apertura del abiono Colón Contemporáneo.
27 February 2016, Laura Novoa, Clarin
'Theatre musn't underestimate the audience' (Interview, en)
Composer Heiner Goebbels talks about the local premiere of Stifter's Dinge: a no-man-show
26 February 2016, Cristiana Visan, Buenos Aires Herald
Una obra sin intérpretes (Interview, es)
"No hago una distinción entre lo teatral y lo musical", dice esta figura relevante de la escena europea, que a partir de hoy presenta en el Teatro Colón una pieza en la que el público comparte el escenario con pianos robotizados y maquinarias lumínicas.
25 February 2016, Diego Fischerman, p. 12
Extraña fuerza de la máquina (Interview, es)
En el ciclo Colón Contemporáneo, el prestigioso compositor Heiner Goebbels presenta una instalación que traduce textos en sonidos.
24 February 2016, Jorge Luis Fernandez, Clarin
Las "cosas" de Heiner Goebbels (Interview, es)
La obra "robótica" del compositor alemán abre esta noche el abono Contemporáneo.
24 February 2016, Federico Monjeau, Clarin
Máquina Goebbels (y sus paisajes polifónicos) (Interview, es)
El compositor y puestista alemán ofrecerá una instalación en la que el público estará en el escenario del Colón
24 February 2016, Alejandro Cruz, La Nacion
Stifters Dinge (Article, en)
introduction / light-image / The dramaturgy of light
2016, Yaron Abulafia
Stifters Dinge (Article, en)
2016, Yaron Abulafia
Stifters Dinge (Article, it)
1 December 2015, Heidi Mancino
Mostra Internacional de Teatro de São Paulo (Review, pt)
Goebbels é um mestre. Um artista visual, um criador musical, um diretor completo — comentou o diretor Felipe Hirsch após assistir ao trabalho Leia mais sobre esse assunto em http://oglobo.globo.com/cultura/teatro/mostra-internacional-de-teatro-de-sao-paulo-recebe-mais-de-15-mil-pessoas-15603683#ixzz3UeM7teh7 © 1996 - 2015. Todos direitos reservados a Infoglobo Comunicação e Participações S.A. Este material não pode ser publicado, transmitido por broadcast, reescrito ou redistribuído sem autorização.
16 March 2015, Luiz Felipe Reis, O Globo
Sem atores propoe mundo para alem do humano (Review, pt)
14 March 2015, Maria Eugenia de Menezes, Estadao
Você busca reinventar o teatro? (Interview, pt)
Leia trechos da entrevista de Heiner Goebbels à Folha, por e-mail.
10 March 2015, Gabriela Mellão, Folha de Sao Paolo
Encenador alemão Heiner Goebbels cria peça sem atores (Review, pt)
'Stifters Dinge', que terá sessões dentro da 2ª MITsp, é um 'espetáculo-instalação' com jogos de luz e som Para diretor, estrutura é também uma escolha política e um meio para quebrar a hierarquia no trabalho artístico
10 March 2015, GABRIELA MELLÃO, Folha de Sao Paolo
The Reduction of Action in Exhibtion and Theater Spaces (Article, en)
A Case Study of "Stifters Dinge"
2014, Christoph Rodatz
La vie des choses (Review, fr)
Un nouvel univers prend ainsi naissance, partagé mais multiforme, fait de l'Autre et de soi-même.
27 September 2014, Christine Zimmer, Dernières Nouvelles d'Alsace
Wunderbar subtil und poetisch (Review, de)
Musica: Faszinierende Klangteppiche bei »Stifters Dinge «
27 September 2014, Jürgen Haberer, Offenburger Tageblatt
Wunderbar subtil und poetisch (Review, de)
Musica: Faszinierende Klangteppiche bei »Stifters Dinge« und den Straßburger Percussionisten
27 September 2014, Jürgen Haberer, Baden Online
invitados a Mil - (Review, es)
Heiner Goebbels - el experimentador innato
6 January 2014, Marietta Santi, Paula
Obra sin actores se luce en Santiago a Mil (Review, es)
6 January 2014, Isabel Lamoliatte, Tiempo Libre
Un Plato fuerte de Santiago a Mil 2014 (Review, es)
6 January 2014, Ezio Mosciatti, BioBioChile.Cl
?Y DONE ESTA EL PIANISTA? (Review, es)
6 January 2014, Rodrigo Miranda
Rara, misteriosa, quizás mágica (Review, es)
6 January 2014, Pedro Labra Herrero, mercurio
Impresionante Instalacion musical en la Estacion Mapocho (Review, es)
Stifters Dinge invita aun sorprerdente viaje sensorial e intelectual
6 January 2014, Marietta Santi, Tiempo Libre
Futurist complesso plastico motorumoristo and Postdramatic Theatre Sound (Article, en)
1 January 2014, Mladen Ovadija
El estar regreso de Heiner Goebbels (Review, es)
El artista - que ha descollado en el mundi de la opera, el teatro y la composición
28 December 2013, Maureen Lennon Zaninovic, El Mercurio
Es schläft ein Krach in allen Dingen (Review, de)
24 September 2013, Rainer Nonnenmann, Kölner Stadtanzeiger
Wie von Geisterhand gesteuert (Review, de)
In "Stifters Dinge" fesselt Heiner Goebbels durch eine imponierende Theatermaschinerie
24 September 2013, Bernd Aulich, Recklinghäuser Zeitung
Theater ohne Menschen (Review, de)
über die Musik-Performance "Stifters Dinge" von Heiner Goebbels während der Ruhrtriennale
23 September 2013, Ulrike Gondorf, swr.de
Stifters Dinge (Review, en)
Heiner Goebbels' eccentric masterpiece
23 September 2013, Shirley Apthorp, Financial Times
Die Macht des Maschinellen (Review, de)
Ruhrtriennale-Intendant Heiner Goebbels inszeniert "Stifters Dinge"
23 September 2013, Martin Schrahn, WAZ
Erinnerungs-Strom (Review, de)
Die Performance 'Stifters Dinge' in Duisburg
23 September 2013, Edda Breski, Allgemeiner Anzeiger
"Stifters Dinge" in Duisburg: Applaus für eine Maschine (Review, de)
Spannungsreiche Performance auf der Ruhrtriennale.
23 September 2013, Max Florian Kühlem, Rheinische Post
Verloren in der Einsamkeit (Review, de)
Heiner Goebbels versetzt "Stifters Dinge" bei der Ruhrtriennale in den industriellen Kontext
22 September 2013, Stefan Pieper, NMZ Neue Musikzeitung
Stifters Vermächtnis (Review, de)
Eine multimediale Performance von Heiner Goebbels bei der Ruhrtriennale. Heiner Goebbels zeigt in der Duisburger Kraftzentrale eine Installation, die auf einem Text des österreichischen Schriftstellers und Malers Adalbert Stifter beruht - eine ruhige, kluge und technisch perfekt realisierte Produktion.
22 September 2013, Frieder Reininghaus, Deutschlandfunk
About Stifters Dinge in Moscow (Review, ru)
2013, Diverse
Akusmatische Stimmen in Heiner Goebbels' Stifters Dinge (Article, de)
2012, Helga Finter
Stifter's Weathermachine (en)
I had never seen that thing like this before
2011, Heiner Goebbels
L'installazione-performance Stifters Dinge di Heiner Goebbels (Review, it)
Un congegno estremamente affascinante
1 June 2011, Anna Monteverdi, Digital Performance
Sul palco "recitano" le macchine (Review, it)
Il debutto In un capannone industriale a Modena il rivoluzionario «Stifters Dinge» del compositore Goebbels. Tubi, lastre e voci governate dal computer: 70 minuti di musica senza attori
31 May 2011, Enrico girardi, Corriere della Sera
L'officina sonora di Goebbels dove la luce fa cantare l'acqua (Review, it)
30 May 2011, GIORDANO MONTECCHI, L'Unità
Goebbels, suoni e visioni (Review, it)
«Stifters dinge» una performance tra musica e teatro
27 May 2011, Felicia Buonomo, Gazetta di Modena
Das Zischen im Walde (Review, de)
Radiostück von Heiner Goebbels über den Horror bei Stifter
19 November 2010, Stefan Fischer, Süddeutsche Zeitung
Hommage an die menschenfernen Dinge (Review, de)
Heiner Goebbels' für den SWR produziertes Hörstück "Stifters Dinge" ist eine Reise in die Fremde.
19 November 2010, Bettina Schulte, Badische Zeitung
Stifters Dinge at the Melbourne International Arts Festival (Review, en)
12 October 2010, Helen Begley, Artshub - The Australian Arts Portal
Machines spring to life as human actors lose the plot (Review, en)
11 October 2010, Jessica Nicholas, THE AGE
Stifters Dinge, Melbourne (Review, en)
11 October 2010, Joshua Meggitt, Cyclic Defrost
Stifters Dinge at the Malthouse (Review, en)
4 Starts in THE AGE
11 October 2010, Jessica Nicholas, THE AGE
what the hell is goin on? (Review, en)
10 October 2010, Penny Modra, Three Thousand
When the stage is no place for people (Review, en)
9 October 2010, Susan Shineberg, THE AGE
Stifters Dinge - Heiner Goebbels (Review, en)
9 October 2010, Choe Wilson, Beat Magazine
La Durata delle Cose (Article, it)
2010, André Eiermann, Enciclopedia delle Arti Contemporanee
Driving Deeper into That Thing: (Article, en)
The Humanity of Heiner Goebbels's Stifters Dinge
17 August 2010, Gelsey Bell, The Drama Review
Real time in Oberplan (de)
Zur Arbeit an "Stifters Dinge"
2010, Heiner Goebbels
Nothing to it: No - plot magic in N.Y. (Review, en)
Inquirer Classical Music Critic
19 December 2009, David Patrick Stearns, The Philadelphia Inquirer
S h o w - B i z D i a b o l i q u e (Review, en)
18 December 2009, Harry Rolnick, ConcertoNet
Haunted Air Piano (sans players) on a wintry night (Review, en)
MUSIC REVIEW | 'STIFTERS DINGE'
18 December 2009, Anthony Tommasini, NY Times
Heiner Goebbels / Stifters Dinge (Review, en)
17 December 2009, Martin Bernheimer, Financial Times
Stifters Dinge (Review, en)
Lincoln Center at the Park Avenue Armory as part of the Great Performers New Visions Series
17 December 2009, Jason Fitzgeralld, backstage
Heiner Goebbels's Extravaganza (Review, en)
Stifters Dinge
8 December 2009, Stan Schwartz, Village Voice
Stifters Dinge (Review, de)
Eine performative Installation von Heiner Goebbels in Dresden
1 November 2009, artikul:ar
Wenn die Dinge stiften gehen (Article, de)
Theater der Objekte / Stifters Dinge von Heiner Goebbels
2009, André Eiermann
Eine verzaubernde Waldsinfonie (Review, de)
Heiner Goebbels Theaterabend "Stifters Dinge" in Hellerau
17 October 2009, Alexander Keuk, Dresdner Neueste Nachrichten
Räume bauen für die Imagination (Interview, de)
Heiner Goebbels ist mit "Stifters Dinge" zu Gast in Hellerau
14 October 2009, Mara Gavran, Dresdner Neueste Nachrichten
Un spectacle sans acteurs avec cinq pianos sans pianistes (Review, fr)
9 January 2009, Brigitte Salino, Le Monde
The year's best... (Review, en)
19 December 2008, Tom Sutcliffe, The Independent
Von der Lust des Entdeckens (Interview, de)
Interview with Bettina Hauser
Autumn 2008, Bettina Hauser, Costa Blanca Nachrichten
Un paysage (Article, fr)
Stifters Dinge de Heiner Goebbels
2008, Christoph Triau
10 vor 11: "Der Zuschauer als Souverän seiner Erfahrung" (Feature, de)
DCTP Gespräch mit Alexander Kluge
26 May 2008
Stifter's Dinge (Review, en)
19 April 2008, Andrew Clements, The Guardian
Stifter's Dinge: who cares what it is? It's terrific (Review, en)
Richard Dorment reviews Stifter's Dinge sponsored by Artangel
16 April 2008, Richard Dorment
Creative Interpretation (Review, en)
Innovative: Heiner Goebbels
16 April 2008, Barry Millington, Evening Standard
When pianos attack (Review, en)
What if actors stood aside and let the props steal the show? Kate Connolly on a bizarre collision of music and theatre
27 March 2008, Kate Connolly, The Guardian
Crossover und Reduktion der Mittel (Interview, de)
ein Gespräch mit Heiner Goebbels über Stifters Dinge
2008
The experience of things - l'experience des choses (Feature, en)
Video documentation on "Stifters Dinge", 52 min.
2008, Marc Perroud
Technisches Wunderwerk belebt "Stifters Dinge" (Article, de)
Eine Theateraufführung ohne Akteure von Heiner Goebbels
Frühjahr 2008, Bühnentechnische Rundschau
Die Szene des Unkörperlichen (Article, de)
(Trans-)Formationen von Zeit, Raum und Text in Stifters Dinge von Heiner Goebbels
2008?, André Eiermann
Der Zuschauer als Souverän (Interview, de)
Heiner Goebbels über seine Musiktheaterinstallation "Stifters Dinge" im Gespräch mit Dorte Lena Eilers und Frank Raddatz
12/2007, Theater der Zeit
Stifters Dinge (Interview, de)
Interview mit Christine Diller
November 2007, Münchner Merkur
Geräusche, seltsam, nie vernommen (Review, de)
29 October 2007, Wolfgang Sandner, Frankfurter Allgemeine Zeitung
Tra musica e teatro: i nuovi spettacoli di Goebbels e Aperghis (Review, it)
15 October 2007, Ermes Rosina, www.allaboutjazz.com
Weite Ferne, so nah: "Stifters Dinge" von Heiner Goebbels (Review, de)
12 October 2007, Kai Luehrs-Kaiser, Die Welt
Ein Lied in allen Dingen (Review, de)
Heiner Goebbels und seine Klanginstallation »Stifters Dinge« beim Berliner Festival Spielzeit Europa
11.10.2007 Nr. 42, Claus Spahn, Die Zeit
Der unaufhaltsame Gang (Review, de)
Heiner Goebbels vertont in Berlin "Stifters Dinge"
8 October 2007, Martin Wilkening, Frankfurter Allgemeine Zeitung
Kahles Geäst (Review, de)
Heiner Goebbels erforscht in Berlin "Stifters Dinge"
8 October 2007, Jörg Königsdorf, Süddeutsche Zeitung
Die Entdeckung der Unschärfe (Review, de)
Mit Heiner Goebbels "Stifters Dinge" wurde die Saison von spielzeiteuropa eröffnet
8 October 2007, Dirk Pilz, Berliner Zeitung
Stimmen der Stille (Review, de)
7 October 2007, Volker Hagedorn, Der Tagesspiegel
TV - Documentation on "Stifters Dinge" (Feature, de)
6 October 2007
Nichts ist schöner als eine leere Bühne (Interview, de)
4 October 2007, TIP Berlin
Stifters Dinge (Interview, de)
Interview with Ulrike Krickau
Autumn 2007, Ulrike Krickau, Frankfurter Rundschau
Musikalische Schaltkreise. (Review, de)
Wenn Heiner Goebbels Musik "ins Bild setzt".
20 September 2007, Sabine Haupt, Neue Zürcher Zeitung
Féerie pour pianos, robots et arbres (Review, fr)
SPECTACLE. Alchimiste de la scène, Heiner Goebbels subjugue le Théâtre de Vidy avec son dernier spectacle «Stifters Dinge». Qui parle de la beauté du monde sans acteurs, mais avec une prodigieuse installation visuelle et sonore.
18 September 2007, Marie-Pierre Genecand, Le Temps
Der Reiter durch den Text (Feature, de)
Heiner Goebbels inszeniert Adalbert Stifters Naturliteratur in Lausanne
17 September 2007, 3sat Kulturzeit (TV)
Der Reiter durch den Text (Article, de)
Heiner Goebbels inszeniert Adalbert Stifters Naturliteratur in Lausanne
17 September 2007, Manfred Scheyko, 3sat Kulturzeit (TV)
Was ein Klavier zu erzählen weiß (Review, de)
Heiner Goebbels' "Stifters Dinge"
14 September 2007, Hans-Jürgen Linke, Frankfurter Rundschau
Presskit (Material, en)
1 January 2000
Feuillet journalistes (Material, fr)
1 January 2000
Presseheft (Material, de)
1 January 2000
Past Dates
September 2018
Fringe Arts Festival
The Navy Yard, Building 611, Philadelphia (USA)
May 2018
SPOR Festival, Aarhus (Denmark)
September 2017
Festival Music of Changes
Svyturio arena, Klaipeda (Lithuania)
Svyturio arena, Klaipeda (Lithuania)
June 2016
Instalakcje 5. Festiwal Muzyczny
Nowy Teatr, Warsaw (Poland)
February 2016
Teatro Colon, Buenos Aires (Argentina)
March 2015
MITSP
Ipiranga, Sao Paolo (Brazil)
September 2014
Festival Musica
Théâtre de Hautepierre, Strasbourg (France)
March 2014
Biennale Musiques en Scene 2014
Théâtre National Populaire Villeurbanne, Lyon (France)
January 2014
Santiago a Mil
Estacion Mapocho, Santiago (Chile)
October 2013
Ruhrtriennale
Kraftzentrale, Duisburg (Germany)
September 2013
Ruhrtriennale
Kraftzentrale, Duisburg (Germany)
July 2013
Center for Arts and Media, Yamaguchi (Japan)
March 2013
Golden Mask Festival Moscow
Moscow (Russian Federation)
November 2012
Artangel, London (Great Britain)
September 2012
Ibsen Festival
Kanonhallen, Oslo (Norway)
May 2011
Angelica Festival
Teatro Comunale Modena, Modena (Italy)
April 2011
Koninklijke Schouwburg/Royal Theatre, Den Haag (Netherlands)
March 2011
TNT - Théâtre National de Toulouse, Toulouse (France)
October 2010
Melbourne Festival, Melbourne (Australia)
August 2010
Taipeh Festival, Taipeh (Taiwan)
June 2010
Herrenhausen, Hannover (Germany)
Festival, Barcelona (Spain)
December 2009
Lincoln Centre, New York (USA)
October 2009
Hellerau, Dresden (Germany)
September 2009
World Theater Festival 2009, Zagreb (Croatia)
March 2009
La Filature, Mulhouse (France)
Premiere
La Filature, Mulhouse (France)
January 2009
T&M Theatre de Gennevilliers/ CDN, Paris (France)
Premiere
T&M Theatre de Gennevilliers/ CDN, Paris (France)
October 2008
CentroCentro, Madrid (Spain)
September 2008
BITEF, Belgrade (Serbia)
Biennale Bern, Bern (Switzerland)
July 2008
Festival d'Avignon, Avignon (France)
June 2008
Holland Festival, Amsterdam (Netherlands)
May 2008
Theaterhaus Gessnerallee, Zürich (Switzerland)
Premiere
Theaterhaus Gessnerallee, Zürich (Switzerland)
Kunstenfestival Brussels, Brussels (Belgium)
April 2008
Artangel, London (Great Britain)
Premiere
Artangel, London (Great Britain)
February 2008
Festival VEO, Valencia (Spain)
November 2007
SpielArt Festival, Munich (Germany)
Bockenheimer Depot, Frankfurt am Main (Germany)
October 2007
Bockenheimer Depot, Frankfurt am Main (Germany)
Premiere
Bockenheimer Depot, Frankfurt am Main (Germany)
Grand Théâtre, Luxembourg (Luxembourg)
Haus der Berliner Festspiele (Freie Volksbühne), Berlin (Germany)
Premiere
Haus der Berliner Festspiele (Freie Volksbühne), Berlin (Germany)
September 2007
Théâtre Vidy, Lausanne (Switzerland)
World Premiere
Théâtre Vidy, Lausanne (Switzerland)